Shaver Composes Connections
This is Daniel Shaver's first year as a full-time music teacher at Radford. Shaver is a Kamehameha Schools graduate and earned his bachelor's degree in music from the University of Oregon School of Music and Dance.
"I just completed my Post-Baccalaureate Certificate in Secondary Education from the University of Hawaii and I am currently still going to school there to get my master's degree in Music Education," Shaver said.
Last semester, he completed his student teaching at Roosevelt High School and Kaimuki Middle School.
"Before that, I was going to school for my teaching certification and working part-time as the Assistant Orchestra Teacher at Kamehameha Schools," he said.
Shaver said he greatly enjoys working at the school. He finds the faculty and staff to be very supportive. He also appreciates the environment Radford has to offer with it having a diverse community.
"Music is a very much a collaboration of different ideas and it is wonderful to see Radford students apply these experiences to their music. Music made a huge difference in my life and I hope that one day it can make a difference in theirs. I love the challenge that teaching presents, and being able to connect with and influence the next generation of students," Shaver said.
Shaver was born and raised in Honolulu, Hawaii. He likes to read mystery novels in his free time and watch movies with family and friends. He also enjoys attending concerts which he tries to do every couple of weeks.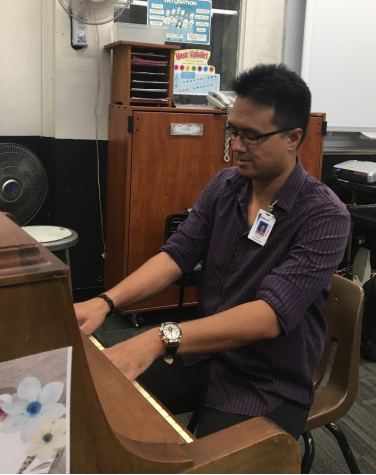 "I am always here to help," Shaver said, "so if any student needs help with something I can be found in my office in the Music Room."