Patcho Wins Radford's Teacher of the Year Award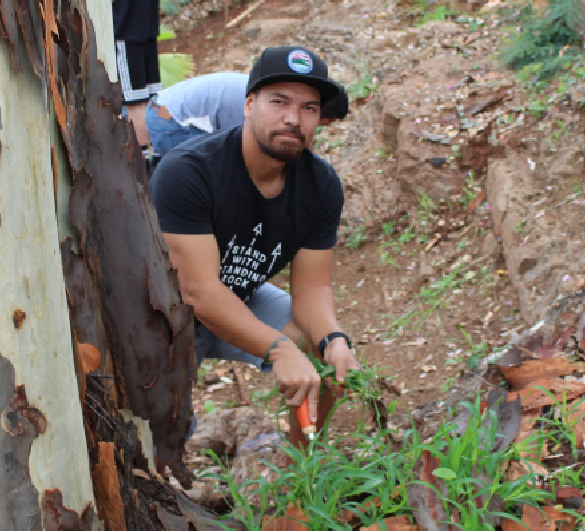 With only five years of teaching experience, Career Technical Education teacher Kapuni Patcho has demonstrated the qualities and earned the award for Radford's 2017 Teacher of the Year.
The award goes to individuals that are nominated by their peers and are seen as positive influences to their students.
"Being named Radford Teacher of the Year was a surprise. I believe we have some incredible teachers and we all deserve this award," he said. "The countless hours each teacher puts in will never be counted, because the value we hold in our students can never be paid out. As humble and grateful I am for this award, I owe it to all present and past students who have walked through my doors. I also owe it to those who will walk through my doors in the future, as much knowledge I am willing to share with my students. I am more stoked to gain knowledge from them."
Patcho's path to teaching didn't start immediately. When he graduated from Moanalua High School, Patcho worked for the Hawaii Carpenters Union and enrolled in Honolulu Community College to complete their apprenticeship classes. While in the program, he completed his liberals arts. After completing his apprenticeship program, he earned a diploma and license as a Journeyman Carpenter for the State of Hawai'i.
While working with the Carpenters Union, he enrolled at Kapiolani Community College and earned an associate's degree in Hawaiian Studies and Hawaiian language.
He is a current student at University of Hawai'i at Manoa where he is taking classes to earn a bachelor's degree in Hawaiian Studies and Hawaiian Language.
Former Building and Construction teacher Rudy Aurio and Patcho were both working for Hawaii Carpenters Union, when Patcho learned that the school needed a teacher because Aurio was retiring.
Outside of his carpentry job, Patcho also coached the school's canoe paddling team. After speaking to Aurio, his career path turned to teaching because "I thought it would be a good opportunity for me to get to know my student athletes on a more personal level."
Patcho teaches Building and Construction, junior leadership, and Papa La'au (Forestry). A proponent of Polynesian culture, he uses his knowledge to spread the culture and values to all his students.
"The students at Radford are what make me enjoy teaching. The student involvement, the student activities, and the student respect is what keeps me grounded at Radford. What keeps me motivated is the drive of Aloha," he said. "I want to use the students as vessels to spread Polynesian culture, and most important, our values of Aloha. Because Radford is a military school, I wanted to teach the kids about Hawai'i, because what better place to learn its culture and values about Polynesia than Hawai'i."
Outside of school, Patcho is busy as a board member and men's coach for Healani Canoe Club. When he is not coaching, or working in the kalo [taro] fields, he can be found fishing and diving.
"I prefer reef fishing, and diving over deep water. Surfing has always been my true passion, and has always been my escape," he said. "I love being physically active and very competitive when it comes to sports."
Since Patcho loves Hawaiian quotes and proverbs ('Ōlelo No'eau), there is one he would love to share with everyone at Radford.
     'Ike aku, 'ike mai.
     Kōkua aku, kōkua mai.    
     Pēlā ka nohona 'ohana.
     "Watch, observe. Help others and accept help. That is the family way."