RambotX Competes in VEX Competition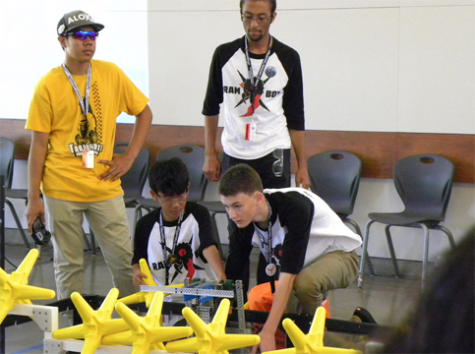 STEM is a project based course that focus on science, technology, engineering, and mathematics. STEM classes are found at other local schools, as well as all over the country. It is no different at Radford High School, where the number of students enrolling in the course grows every year. Radford's STEM program started in 2012 and students participated in VEX competitions since 2014.
Radford's STEM VEX Robotics team, dubbed RambotX, competed in the annual VEX robotics competition on Aug. 12. Science teacher and VEX advisor Ryan Saito has taken the STEM class to VEX Robotics competition for the past two years. This year, RambotX entered with two teams, 2454 and 2454A.
The competition, this year, was named VEX Starstruck and featured schools from Oahu and the Big Island. Competing teams came from Pearl City High School, Waialua High and Intermediate Schools, Highlands Intermediate School, Sacred Hearts Academy, Mid Pacific Institute, Mililani High School, Kohala High School, Nanakuli High School, Kalani High School, Maryknoll School, and Kaiser High School.
STEM student J'Drein Jones (10) is a second year member of the team.
"This is not my first time with VEX,  but my first time going to competition," he said.
Yared Falcon Reyes (11) brings experience to the team having been used to VEX and with competitions.
"Back in 7th and 8th [grades], I went with Independence middle school for their very first year of competition at the Virginia Convention Center," Reyes said.
Each team consisted of three members: the coach, driver, and spotter. Representing team 2454 was coach Alex Garcia (10), and driver Reyes.
On the second team, 2454A, was coach Dustin Garner (12), team driver Andre Johnson (12), and team spotter Jones.
Coaches are tasked to lead their teams and help direct drivers to control the robot in competition. Jones' job entailed researching other teams' robots to see how they perform, and seeing how their designs could be used to better enhance Radford's design. However, their overall goal was to gain experience for the next competition.
"[Our job was to] get the feeling of the robot, get the feeling of VEX. And get the feel for competition," Jones said.
The competition on Aug. 12 was challenging. Teams worked with different types of robots, all trying to complete the same task. Their goal was to move yellow foam stars and orange cubes to the other side of the mat across the white barrier.
"It's our first competition of the year because we built two robots in a week and a half, with little time between our schedules and allowing ourselves to be immersed within these two robots, and then figuring out how to do this and then, seeing us flying up to the elimination rounds… that's amazing. We were going against 27, 28 other people, and we got into elimination," Reyes said. "That is a win on its own."
For the competition in the qualifying round, each team is paired with a different partner from another school for each round. Both teams 2454 and 2454A paired up with teams from other schools in order to win their matches. Some partners participated more than others, but that didn't stop either RambotX team from doing their best to complete their tasks within their given time limit of only two minutes.
"We came in with our hearts, we were building like there's no tomorrow, we worked on this, day after day," Reyes said. "[It involved] a lot of blood, sweat, and tears."
Despite all the work preparing for and during the competition, Reyes sees the satisfaction.
"I think it's fun," he said.