MYAC Celebrates 20th Anniversary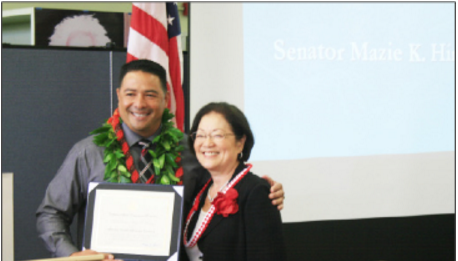 On April 1, the Military Youth Advisory Council held its monthly meeting, with a little more fanfare than usual.
    Twenty years passed since the inception of MYAC, and there to celebrate were several big names. Some guests included US Senator Mazie Hirono, Support Services Assistant Superintendent Dann Carlson, and Deputy Commander of the US Pacific Command Anthony Crutchfield.
    MYAC was created by former Principal Robert S. Stevens in 1995 who worked with representatives from different military branches to address issues and improvements needed for the school.
    MYAC is composed of representatives from the Air Force, Army, and Navy, School Community Council, military school liaison officers, family service representatives, community leaders, parents, students and Radford Complex principals, states the school website.
    The program's objectives, according to the website, are to 1) discuss and problem-solve concerns from the community; 2) increase members' awareness of the school's programs; 3) act as sounding board for ideas; 4) assist the principals in presenting educational programs to the community;  5) solicit input for maximizing opportunities available for the schools and; 6) address issues related to student transition.
    Radford's student body is made up of 65 percent military dependents, which makes the population transient.
    In the School Status and Improvement Report, it states, "Most of the issues of its transient population are addressed in this council which meets once a month on the Radford campus. It is a highly functional, comprehensive partnership which has resulted in many exemplary programs and improvements for Radford students and has solved many critical campus/community issues."
    Invited guests gather on the first Friday of each school month to share about and discuss school events and concerns. It allows faculty to collaborate with government and community bodies to resolve issues, and recognize student activities.
    At this meeting, the spotlight was on the school's Transition Center program. The program is recognized for its impact on transitioning students to the school. Student facilitators work with new students by escorting them to their classes, offering them company during lunch, and teaching them about the school, community, and island culture.
    "The process of getting in Radford's MYAC was phenomenal. We got to see the amazing things going on here in Radford's Transition Center. It was an incredible experience," Carlson said. "It's a model that can be used around the nation."
    Congresswoman Hirono spoke about the significance of military dependents who transfer into the school.
    "You are one of the first to really bring together the community. For a lot of military incomers, they do have concern for the education quality," Hirono said.
    A regular guest at MYAC, Kyle Degood (12) represented the school's Robotics team and updated guests with their progress.
    Degood said that the team worked on an underwater submersible robotics project, and despite different challenges, the team will attend a national competition in Louisiana.
    Robotics qualified to participate in the National Seaperch Challenge at Louisiana State University on May 20. The competition consists of three events: two in the pool and one interview in front of the judges. STEM and Robotics teacher Ryan Saito will travel with Andre Johnson (11) and Daesen Serrano (10) to the competition.
    "The other team members are seniors that will not be able to make it due to the competition being on the same day of Radford's graduation," Saito said.
    MYAC allows an open forum for all participants to problem solve, make decisions, and collaborate.
    "The world is going to change," Crutchfield said. "To deal with it you have to be educated, and that is why [MYAC] is so important."