Multicultural Day Brings Diversity to Center Stage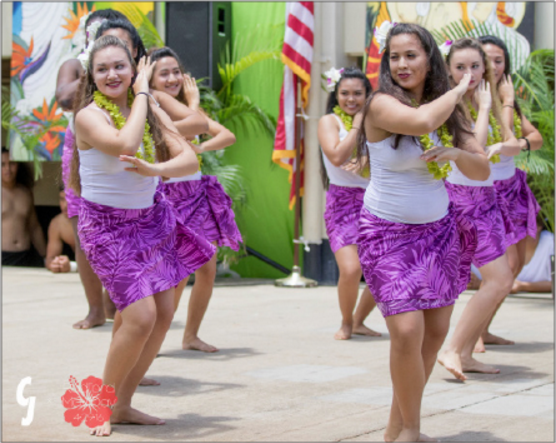 Faculty, students, and guests were treated to entertainment and food, during an extended lunch on April 29 to celebrate the school's annual Multicultural Day.
    Performances from the Samoan Club, Korean Club, and Hawaiian Club took place on the outdoor stage.
    Multicultural Day was organized by a committee made up of faculty members Tani Almont-Done, Rick Salado, Gino Dayton, and Kapuni Patcho, meeting since November to plan the seasonal event.
    "It takes months, adult volunteers, students, and time to practice, plan and set up," Student Activities Coordinator John Goto said.
    Performers like Angelica Montilla (9), from the Korean Club, put in regularly scheduled practices for her stage debut. She said that club members met everyday afterschool since January to practice their dances.
    Students weren't the only ones staying behind. Salado stayed into the evenings and taught dances to groups. And, Almont-Done also used TASK and afterschool to teach dances.
    "[Committee members] all have to call in favors from adults and business to get costumes, leis, and musicians to help get things done. [They] do so much to help perpetuate the Hawaiian culture and spread the aloha to the school and community," Goto said. "They are amazing and always giving…They do it for the school and the kids."
    Kayce Demello (11), who participated in the hula and Tahitian dances, said she watched last year's May Day performances, and wanted to participate this year.
Demello said the event got downsized from an assembly in the gymnasium to a noon hour show in the courtyard.
    "We still pulled it off really well, and I felt like a lot of people enjoyed it," Demello said. "Hopefully, we can put it out to a big assembly again."
    Faculty and students arrived to school Friday morning to a decorated campus, where details weren't overlooked. Canoes were positioned on the roof, and flags representing different countries lined the downstairs main hallway.
    Goto said, "Gino and his students came the night before and that morning to set up the different decorations…on the roof, on the side of the buildings, and sound system."
Demello said that in addition to knowing her movements, she also made sure she was ready for her stage appearance as well.
    "We had to braid our hair the day before so our hair could be poofy. On the day of, we took out the braids, put on our costumes, put on our make up, and practiced some more," she said.
    Courtney Strader (9) transferred from Connecticut in November, and experienced her first Multicultural Day.
    "Seeing all of the different dances and amazing food was something so incredible. I've never seen anything like it," Strader said. "The mainland has parades and fairs but nothing like the Hawaiian Multicultural Day. It's definitely something that I wish everyone could witness."
    Sixteen school groups set up tables in the courtyard to whet buyers' appetites. Customers had their choice of beverages with water, soda, Colombian soda, poifala (pineapple drink), and lemonade. Lines formed for snacks, such as spam musubi, empanadas, lumpia, pineapple li hing mui, Krispy Kreme doughnuts, and baked goods. Heartier meals were also available, with kalua pork sandwiches, fried noodles, chili nachos, chili and rice, mini bentos, pizza, crepes, and shoyu chicken wings. Some went straight to desserts with shaved ice and mochi ice cream.
    A recent transplant from North Dakota, Bailey Haugan (9) said, "It was fun to watch the dances from different cultures and try the food."
    She ate chili and rice, but tried spam musubi for the first time.
    "It wasn't something that I tried before, but I would be willing to try it again.