Navy JROTC Passes Annual Military Inspection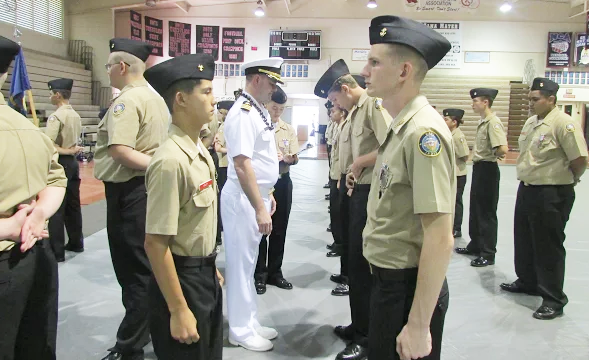 One hundred forty-nine Navy JROTC cadets had a chance to boast their skills and knowledge in an annual military inspection, conducted on Jan. 27, at the school.
Cadets underwent an Area Manager's Inspection, which is a comprehensive review of all aspects of the NJROTC program.
"It consists of an in-brief to the inspecting officer by the cadet staff, a personnel inspection of all individual cadets, a demonstration of in-place drill by each of the each cadet platoons, a Pass-In-Review ceremony (including an Armed Drill Team performance), an inspection of all NJROTC spaces, and a review of all supporting supply and administrative programs," Naval Science instructor Paul D. Cavallaro wrote, in an email.
The inspection also focused on looking closely at the cadets, by checking students' appearance and assessing their knowledge.
"During the personnel inspection, the inspecting officer inspects the cadets' uniforms and tests their level of knowledge through oral exam questions," Cavallaro wrote. "He is looking for a clean, pressed, sharp looking uniform, satisfactory grooming standards (to include haircuts, fingernails, shaves, etc), and a satisfactory level of knowledge."
Despite the pressure of the inspection, some students saw this event as a positive experience.
"AMI was really fun and easy," Christian Limos (10) said. "I did AMI last year and compared to this year it was a fun experience."
Jett Kaddour (10) said, "I liked marching through the gym."
Instructors prepared cadets all week and rehearsals were set aside to prepare for the inspection.
This allowed Francisco Irizarry (10) to do just that, "which was good because it made it easier."
Commander Corey Turner, from the US Navy, conducted the inspection. He inspected classrooms' physical conditions and teaching equipment, and reviewed supply and record keeping procedures.
"Every other year it is conducted by our Area Manager, Captain Daniel Wenceslao, from Washington state. In the years when Captain Wenceslao does not conduct the inspection, we arrange for an active duty officer from the local community to conduct the inspection," Cavallaro said.
Students were divided into three companies (Alpha, Bravo, and Charlie), which were each separated into two platoons (Alpha 1, Alpha 2, Bravo 1, Bravo 2, and so on). Each platoon was presented to Turner.
"The Pass-In-Review, held in the gym, is when the entire unit is presented to the inspecting officer, through a formal march in, a series of in place maneuvers, an Armed Drill Team performance and then, the unit parades out of the gym after passing by the inspecting officer and rendering a salute," Cavallaro said.
AMI closed with ice cream and cake for all program participants.