Governor Plans AC Installation in All DOE Schools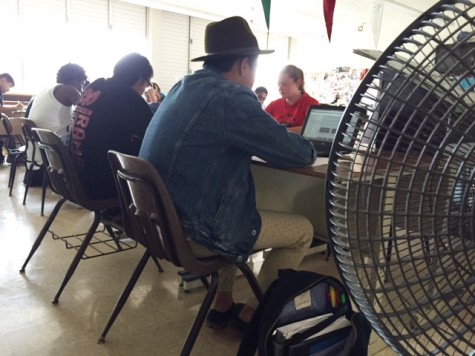 Soaring temperatures is a hot issue for Hawaii residents, especially for students who sit in classrooms reaching temperatures in the 90s. When school resumed in July, students and teachers endured physical discomfort, loss of focus, excessive sweating, and in some cases, dehydration and heat stroke.
According to Hawaii State Teachers Association President Corey Rosenlee, 7000 public school classrooms do not have air conditioning. The teachers' union is working with the governor to install air conditioning in 1000 classrooms by December, and according to Rosenlee, "hopefully, in two to two-and-a-half years 2000-3000 additional classrooms will have air conditioning."
Teachers Monica Belding and Andy Jones have thermometers in their classsrooms, and, at one point, kept a record of temperatures. Belding said that she recorded a high of 88 degrees in September, and Jones said that the top temperature recorded in his classroom was 91 degrees in August.
Rosenlee said that a record 108 degrees was recorded, during the school day at 2 p.m., at Kalaheo High School.
While some might see air conditioning as a mere comfort, students feeling the heat experience challenges that affect their learning.
"With no AC, students feel more tired with the heat and start to lose focus," Zoie Popescu (10) said. At this point, she could see how "grades drop quickly."
Czarene Yvette Tagala (9) also said that she couldn't focus in class due to the heat.
"In the beginning of the school year, the lack of AC affected me greatly…I would get heat flashes in the middle of the lesson, and after PE it would be too hot in the classroom," she said.
Evidently, the heat was an issue felt by people statewide.
Rosenlee said, "Teachers and students were going to the emergency rooms for heat-related reasons."
On Jan. 25, Gov. David Ige delivered in his State of the State address plans to use solar power to air condition classrooms.   
"We need to cool our classrooms now, in energy-efficient ways that align with our commitment to end our dependence on imported fossil fuels. Clean energy technology is changing rapidly and it's becoming more efficient," Ige said in his state address.
While many applaud this plan to cool classrooms, some concerns have been expressed about this plan.
"As part of this proposal, the Governor wants to use funds from the Green Energy Market Securitization fund; a fund specifically established to help consumers who would not be able to afford a traditional bank loan, yet instead receive a more affordable loan by the state," Senator Glenn Wakai wrote, in an email. "I firmly believe in having a school environment that is optimal for learning, but this problem is much more complicated than just installing air conditioning."
In Kevin Dayton's "Ige is looking to HECO to help cool schools," the governor plans to cover the costs of installing air conditioning by working with Hawaiian Electric Company. To reimburse the utility for the cost of the program, a fee may be tacked on to utility customers bills.
"As the cost for this initiative is to be borne by all HECO customers, including homes, businesses and the military, it is important that all the details and costs are firmly identified before moving forward on such an ambitious project," Wakai wrote.
Public Utilities Commission  Chairman Randy Iwase stated, in Dayton's article, that the governor "could pursue the initiative either by asking for PUC approval, or by asking state Legislature to change state law to establish a surcharge on consumers."
"A version has passed the House and another version has passed the Senate, and at one point, we may need to merge the two plans. Hopefully, both will pass," Rosenlee said.
Before installation can be pursued, schools have to address an aging issue.
According to Principal James Sunday, many schools are outdated in their electrical system.
Before air conditioning can be properly installed, schools need to be outfitted with electrical upgrades.
"We have installed air conditioning to a few classrooms this year. However, due to our electrical capacity and much needed upgrade of the system, we only can install a few, otherwise the breakers will trip and power will go off," Sunday said. "Radford currently has a request in with the State and Department of Education for a schoolwide electrical upgrade."
In the meantime, schools are addressing the warm conditions in the classrooms by painting the rooftops white, and providing classes with fans.