Varsity Football Wins OIA, State Championship Titles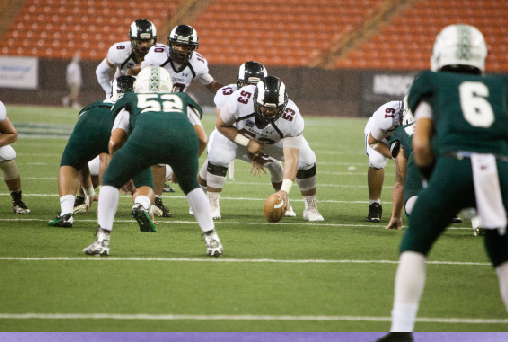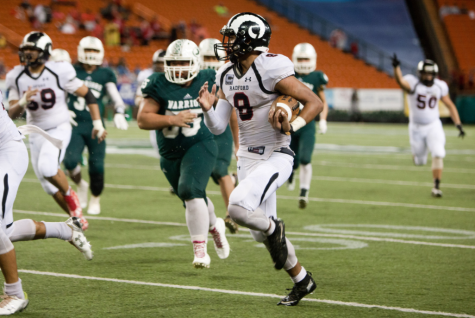 Vince Albalos
Radford's varsity football team made school history this year with an unblemished record and two championship titles.
Not only did their season end boasting an undefeated record (13-0), they claimed the 2015 Oahu Interscholastic Association Division II Championship and State Division II Football Championship titles.
Seniors Ace Faumui, Thomas Reid, and Dillon Sunday scored touchdowns.
"Winning was really heart touching," Micah Guerra (12) said. "All of us were emotional knowing that it was all over."
Radford Rams won the OIA title  in a close game (48-46) against Konawaena Wildcats on Nov. 14. Rams went on to overpower Kapaa Warriors (30-16) on Nov. 20 for the state title.
"It feels great knowing you're a champ forever," Sipa Leafa (11) said.
Dozens of Rams braved inclement weather to attend the championship game at Aloha Stadium .
"The game was great, but it was nerve racking at first because we were undefeated and so were [Kapaa]," Lailona Holloway (10) said. "Then we scored the first touchdown, and  I knew we would win."
Kala'i Stevens (9) is an avid fan who attended all the football games to support the school.
"It's not every year that we get to play in the states,"she said. "I'm proud of them."
Head coach Fred Salanoa credits the team's work ethic on achieving their goals.
"This team has worked hard and committed themselves to their two goals, which was to win the conference championship and then eventually win the State Championship.They accomplished both goals and most of all, it was done with an undefeated record," he said.
Salanoa said that his players put in almost daily, Monday-Saturday, four-hour practices for the past 10 months.
"Outsiders have no clue the time and preparation that our coaches and young men put into each football season," he said.
Salanoa recognizes setbacks that could easily have derailed the team, but "as coaches we meet often and always discuss the welfare and outlook of our team."
"There's always adversity whether it be injuries, family issues, academics, social life, media," he said. "Our young men have been through a lot this year and it is because of their mental toughness that they were able to persevere and fight on."
Salanoa said that he believes the trip to Washington, early in the season, was an indication that the team was going to do great things this year.
"Our young men traveled with class and respect and met all my rules and expectations representing this state and our school with great pride," he said.
Salanoa is quick to acknowledge that their success is a team effort.
"Players have and know their roles, and each player is a significant contributor to our success. Players may have a little bit more as far as a role player or a go to player, but at the end of the day, we win as a team," Salanoa said.
Not far behind is the Junior Varsity football team who made news this year as well. JV football earned the 2015 OIA Football Division II Championship title.