Nation Divided Over Accepting Syrian Refugees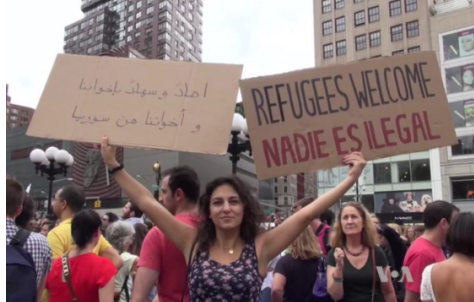 United States, along with other countries are struggling to address the mounting tide of Syrian refugees in need of protection from ISIS.
After the heinous ISIS attack in Paris that massacred nearly 130 people, it came to light that one of the Paris terrorists may have entered France in the guise of a Syrian refugee. Since then, residents and households are polarized when it comes to the topic of admitting Syrian refugees into the US.
"I think it's scary," Diana Bayani (10) said. "It makes me feel less safe. Some Syrian refugees could be undercover. We already have our own problems and [the government] is just creating more by accepting them in."
President Barack Obama stated, at a G20 meeting in Turkey, "It is very important …that we do not close our hearts to these victims of such violence and somehow start equating the issue of refugees with the issue of terrorism."
Admitting Syrian refugees to the US might be the opportunity for them to establish connections with American communities.
As of Nov. 19, 31 governors say that they will protest Syrians entering their states. Texas is going as far as suing the federal government to block refugees from entering their state.
According to a cnn article, "More than half the nation's governors say Syrian refugees not welcome" posted on Nov. 19, it states that 1,500 Syrian refugees have been accepted into the United States since 2011.
In a cnn politics article "How do Syrian refugees get into the US," California has accepted the most Syrian refugees (252), followed by Texas (242) and Michigan (207).
By law,  President Obama's administration can allow 10,000 in fiscal year 2016, and no refugee commitments can be made beyond that, according to FactCheck.org.
Syrians make up the world's largest refugee population, according to the United Nations, and most are struggling to find a safe place. Because of this, countries are asked to take action on the issue.
Hawaii's Gov. David Ige said at a Nov. 16 news conference that the state would welcome Syrian refugees with aloha.
"Hawaii is the Aloha State, known for its tradition of welcoming all people with tolerance and mutual respect," Ige stated.
A day later in another news conference, he clarified his statements in an attempt to quell the public uproar over his support.
"In the last decade, zero [refugees] have come [to Hawaii]. How many might show up in the next month? I would guess it would be zero. But whatever refugees are fleeing from oppression and abuse anywhere in the world, we will assimilate them," Gov. David Ige stated.
While Gov. Ige's administration has expressed interest to allow Syrian families to Hawaii, the state lacks a plan on how the state's assistance would extend to them.
While a majority of governors may not support the Obama administration on this topic, they do not have the authority to block these refugees.
In light of the Paris attack, the general public is concerned about safety if Syrian refugees are allowed in their cities. Gov. Ige addresses this concern by explaining how refugees are placed in countries.
"Our first priority is the safety of the American people, including the people of the state of Hawaii," Gov. Ige stated. "The US accepts refugees, including Syrians, only after they are subjected to the most vigorous and highest level of screening and security vetting."
According to National Public Radio "4 Things To Know About The Vetting Process For Syrian Refugees," refugees are screened by several different agencies. Resettlement is determined by having any family members in a specific country and where resettlement makes the most sense. It's a lengthy process that may take up to 24 months before a refugee is approved to enter the US.
"In a temporary state of refuge it would be acceptable [to accept the Syrian refugees] as long as necessary precautions are taken to prevent those with hostile intentions from entering the country," Ben Soldow (10) said.
Many Hawaii residents are struggling with accepting Syrian visitors because it doesn't make sense for the state to provide housing for more people when it is still tackling the prevalent issue of homelessness.
"We have enough [to deal with] because of the homeless population," Spencer Matthews (11) said.