Executive Chef Prepares Menu with Aloun Farms Donations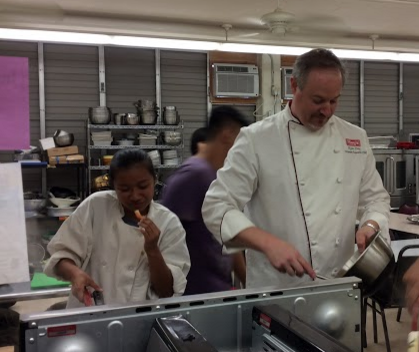 Twenty-three Culinary II and III students and their chaperones took a trip to a local farm on Sept. 10.
Students and teachers visited Aloun Farms to learn about the foods grown at the farm. Aloun Farms is a family owned farm with a commercial operation that spans approximately 3,000 acres.
"We got to see how the fruits and vegetables get started, and to see the difference between store bought and farm fresh," culinary teacher Jamie Kahalewai said, "and locally grown fruits and vegetables, versus those flown in from mainland."
In addition, the visiting group also learned how the weather has an impact on crops.
"I learned that there weren't many pumpkins because of the wet weather," culinary teacher and CTE coordinator Tiffany Petersen said, on the recent rains.
After the farm tour, students returned with donated produce from Aloun Farms. At the school, Executive Chef Ryan Day from Palama Meat Company guided students to prepare watermelon poke, lemongrass chicken, kalua kale soup, shrimp with broccoli leaves, fresh corn, and kabocha and cantaloupe cupcakes.
"We are partnered through the Hawaii Culinary Education Foundation which partners culinary teachers with an industry chef," Kahalewai said. "Chef Day develops recipes for Mays."
A future excursion is planned to Whole Foods in November, and Kahalewai and Petersen are reaching out to businesses in the community.
Kahalewai said she wants to take her culinary program to the next level. She hopes to participate in a high school culinary program where the school can receive free fish.
"Fish is expensive," Kahalewai said, explaining why fish is seldom seen on a high school culinary class' menu.
Mark Mitsuyasu of the Pacific Island Fisheries Group is organizing a grant project to offer ahi, opah, monchong, and marlin. PIFG will provide educational materials, fish professionals and fresh fish for the classroom. These supplies are planned for the second quarter of the school year.