Munsayac Mixes Fun with Learning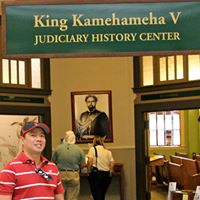 Science teacher Dean Munsayac may be new to his department, but is no stranger to the school. While he spent most of his teaching career abroad, he's been a Ram since 2013.
He has a bachelor in science degree in aircraft technology, and has 11 years of teaching under his belt, having taught Physics and special education English. He currently teaches Chemistry and Physics.
He said that he likes to mix fun with learning, so students can enjoy his class and still learn what they need to.
"I love working here," he said. "There's so much work to do."
He has set goals for students, as well as himself.
Munsayac said, "I hope to help the students pass their exams and tests with flying colors, while preparing them for college."
In his free time, he said that he loves to read books, spend time with loved ones, and watch movies.