Wallace Joins Science Department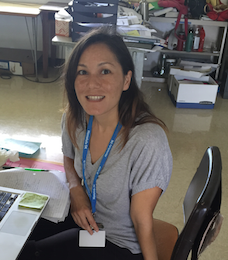 Suzie Wallace is Radford's newest addition to the science department. She's been an educator since 2007, teaching at Campbell and Farrington High Schools. "…Discipline, Respect, and Responsibility' motto aligns well with my core values," she said.
Science teacher Suzie Wallace is part of the new wave of Rams.
While she's a first-year Ram, she isn't a new to teaching. Wallace has been teaching since 2007, starting her career at Campbell High School, and spending the last two years at Farrington High School.
As a first year member to Radford, she already expressed a positive attitude towards the school and its values.
"I chose to work at Radford because it offered the teaching lines that I have wanted to teach for quite some time," she said. " In addition to this, I have a better feeling of belonging here as the 'Discipline, Respect, and Responsibility' motto aligns well with my core values."
She looks forward to the school year, and getting to know the school community better.
"I really like the faculty, students, and community here at Radford.  It is truly a very supportive and nurturing environment for all involved.  I hope to not only build just a good rapport with my [colleagues], students, and parents, but to be a part of the community here and build new partnerships that service all involved," she said.
She plans on connecting with her students with outside activities.
"I plan to organize several field trip opportunities in which all involved can participate in fostering student growth and a sense of ohana," she said, "as it really does take a village to raise a child."
In addition to teaching science, Wallace said that she enjoys cooking, reading, singing karaoke, and participating in marathons and triathlons.