NHS Brings Backpacks to Homeless Children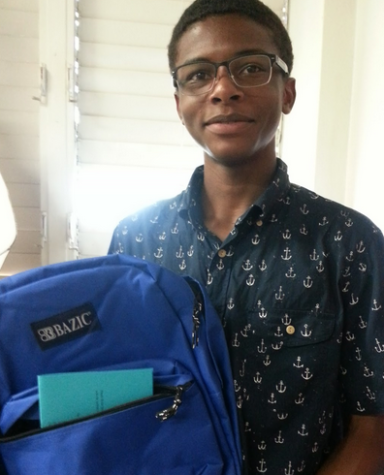 One of the perks of starting a fresh year of school is the satisfaction of new supplies. For many students, these supplies are taken for granted. But, for some children, they don't have such a luxury.
National Honor Society is addressing this need by organizing a school supply and book drive for the children living at the Institute of Human Services, a homeless shelter.
"We felt the need to support IHS and specifically, the children of IHS, who are caught in a situation not of their choosing," NHS advisor Beverly Vallejo-Sanderson said. "The beginning of a school year is always exciting, very hopeful, a chance for a new start, a clean page, and if a child can start off with a new bag with new supplies, it may be the beginning of a best year ever."
As a part of their drive, NHS distributed backpacks to each of the 70 advisory classes in the school. Between Aug. 26 through  Sept. 11, students were encouraged to fill each backpack with supplies and books.
"If each advisory class can just gather up new pencils, markers, glue sticks, folder paper, portfolios, erasers, and composition books, 70 homeless children will have a new bag with fresh supplies," Vallejo-Sanderson said.
Mary Ann Kurose's junior advisory class stuffed their backpack with the most donations, and won a pizza party from NHS.
"I was shocked to learn that we won," Kurose said. "It didn't sit right with me to accept the party, so I politely declined the prize on behalf of our class."
Students should be giving because they want to give, and not for a pizza party, said NHS member Jerimie Lucero (11), who is also student in the winning advisory class.
This isn't the first year the organization is bringing attention to the issue of unhoused children. Last year, NHS members donated 66 backpacks for children living at the women and children's shelter.
"We wanted to lead the school in being aware of the issues that children need to face and to look for ways to preserve the dignity of others. We simply could have conducted the drive by ourselves, but we wanted to bring the Radford student body alongside with us by sharing it among the advisory classes," Vallejo-Sanderson said.
NHS members also gain experience and skills from coordinating an effort of this scale. Students are responsible for planning and promoting this project.
"We had to go around and distribute the backpacks, and then, pick them up,"  NHS member Andreas Casillas (11) said.
NHS members are committed to community service. In addition to the school supplies and book drive, NHS also actively participates in food and blood drives. Vallejo-Sanderson doesn't plan on stopping the charity effort here.
"I hope that the officers will continue to build on this project and look for other ways to help our local children in need," she said. "Perhaps a slipper/sock drive for the holidays will be next?"