Tunac beats out talent for top spot
Sophomore Eugene Tunac is the overall winner of this year's talent show, and will represent Radford on Brown Bags to Stardom on April 25 at the Blaisdell Arena.
Tunac's performance earned him top marks with his rendition of Ed Sheeran's "Thinking Out Loud." The song has claimed the number one spot on pop radio during the March 1-7 tracking week, according to Headline Planet, so its popularity wasn't missed on Tunac who counts the song as a favorite.
"It was my favorite song at the time," he said. "I've been practicing since December."
Before the talent show, Tunac's talent was recognized by a small circle outside of school.
"I sing at church and for family and friends who invite me to their parties," he said.
So his win was even more surprising for him because "I'm really shy," he said, and "the competition was really good."
Contestants were judged on skills based on presentation, technique, and originality, among other components. Band director David Hirano, Peer Education teacher Troy Freitas, and office clerk Gayle Murakami joined guest judges Ed and Juliet Nix, and Greg Gabaylo.
Most of the show's talent were made up of singers. Sade Coverson (12) sang Aretha Franklin's "Ain't No Way," and the show continued with Jerimie Lucero's (10) take on Beyonce's "Halo," and Destiny Robinson's (9) performance of Rihanna's "Stay." The singing portion closed with a group act, when seniors Bradley Saito and Zach Toloumu performed "I'll make a man out of you" from Disney's "Mulan."
Instrumentalists Preston Colon (12) played a guitar solo of "Fur Elise" by Beethoven, followed by Brandon Arao (11) playing "Carelessly" by Tatiana on his ukulele.
Dancers also had their chance to show off their choreography skills, when Jamaal Tribune (12) danced to his own mix of songs, and Voltaire "JR" Visitacion (12) performed breakdancing moves.
The show wrapped up with former Brown Bags to Stardom winner and junior Nicole Villejo's performance of "I Will Always Love You" by Whitney Houston.
The statewide competition is coming up in a month, and Tunac remains optimistic. But, he already has a backup plan if he doesn't win.
"I actually want to be a doctor," Tunac said. "Maybe I'll be a singing doctor."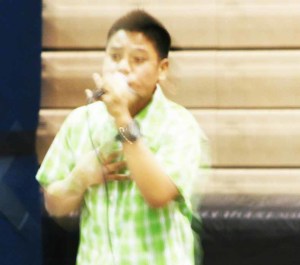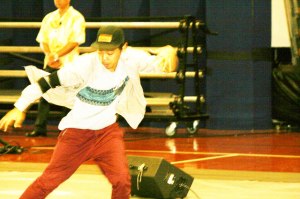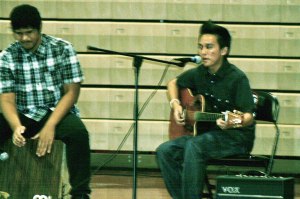 The Radford talent show highlights will air Wednesday evening at 7:00 p.m. It will repeat for two weeks
on Channel 12 (Wed at 7:00 p.m., Thu at 1:00 a.m., Mon at 5:00 p.m., Tue at 6:30 a.m.).