Graphics Teams Compete in Vans Competition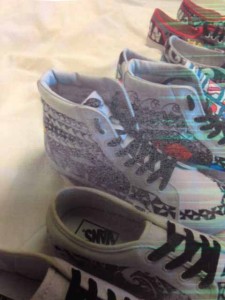 Graphic Communications students worked in teams to draw and then, paint on shoes for the Vans CustomCulture shoe design competition. Students looked at four different models of Vans shoes to depict the following themes: art, music, action sports, and local flavor.
Teams will be alerted if they make the voting round of the top 50 schools next week and one school from each of the five regions will compete in New York.
"All of our students came up with really great ideas for our shoes," Graphic Communications teacher Lane Yokoyama said. "But we had to narrow it down to a smaller sampling and we chose the final artists to create visually tribal tattoos which represented local flavor activities. If you look closely you can see an ipu, spam musubi, surfing, and ukulele."