Mariano Wins Gold, Chance to Compete in Missouri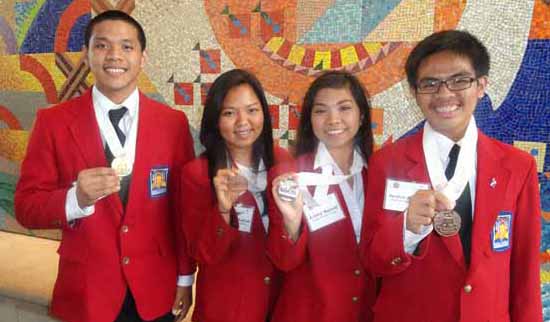 Radford's Graphic Communication students took several awards at the SkillsUSA competition on Feb. 19 – 20. Led by teacher and adviser Lane Yokoyama, Radford SkillsUSA members claimed four gold, silver, and bronze medals.
"We practiced and practiced and prepared for weeks," Yokoyama said. "Not everyone wins and we had a new team so we practiced after school, on weekends and on holidays. And this is not just graphics, it's leadership too."
In the Prepared Speech competition, where members deliver a five to seven minute speech on a topic National SkillsUSA establishes early in the school year, Kristelyn Galiza won bronze. Contestants are evaluated on how effectively they present their thoughts.
In the Job Skill Demonstration competition, members demonstrate and explain an entry-level skill in the occupational area which they are training for, Ashley Manuel won silver and Jordan Abanto won bronze. In this area, any job skill can be demonstrated and the competition can include an industry comprehension test.
In the Advertising Design contest, members are tested on technical skills and creative skill. Nielsen Mariano won gold, claiming State Champion title and qualifying for nationals in Kansas City, MS. The Advertising Design competition includes written test, a task of redesigning a given advertisement on computer and a creative portion. Competitors are judged on accuracy, and proficiency.
"I was pleasantly surprised because there were only two returnees from last year's team," said Graphic Communications and adviser Lane Yokoyama. "We practiced a lot afterschool and on weekends. The students really wanted to win."
Mariano's brother, Allen, won a gold medal in Advertising Design in 2010. "I practiced a lot and my brother Allen helped out and gave me pointers," Mariano said.  "He knew what it was like to compete."
"I did not expect to win. I thought I did bad and my head was down. And when they said Radford, I was so shocked to get an award," Mariano said. "I was shaking my head and I couldn't believe it. I was so happy to receive it, but I still could not believe I won."
Mariano is looking forward to compete in June at the National Leadership and Skills Conference in Kansas City, Mo. "I've never been to the mainland and I'm excited to try some barbeque."
Mariano is a recipient of the National Graphic Art  Research Foundation, which is offering him a scholarship attend the trip. "If anyone can help him out, we're selling cookies, we're printing stuff, we're accepting donations for the trip," said Yokoyama.