Juniors Sweep USS Missouri's Essay Contest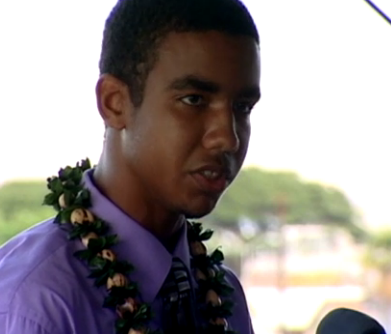 Christian Wells, Samantha Peterson, and Corey S. took first, second and third places, respectively, as winners in the USS Missouri's  Essay Contest "MacArthur's Words."
The students all received cash prizes, a souvenir Battleship Missouri Surrender coin, and a student membership to the Battleship Missouri Memorial. In addition, they and their parents were invited to attend the 67th Anniversary Commemoration of the formal surrender of the Japanese.
The essay contest was a writing assignment in Mrs. Jacquelyn Baze's English class. Since all three winners are from that class, Mrs. Baze's junior English class was also awarded a free field trip to the Battleship Missouri which they will take later this semester.
Wells, as the Grand prize winner was asked, and accepted the honor of reading his essay at the Commemoration ceremony on Sept. 2.
"It was quite an exciting experience for me to attend the commemoration ceremony and I was very proud of Christian and also that Samantha and Corey and their families all came to support each other and represent Radford High School so well," Mrs. Baze said.
KITV news report aired later that evening at 5 p.m. Wells is shown reading a short section of his winning essay in the last few moments of the video.