Gabriel Wins Brown Bags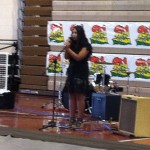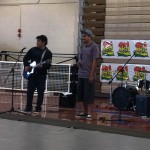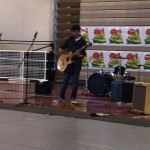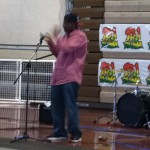 Along with Radio Stations 102.7 & 93.1, OC16 & Brown Bags to Stardom arrived to Radford High School looking for talent.
After nine acts, junior Kasey Gabriel who sang "My Immortal" by Evanescense was announced the winner.
"I was really nervous," said Gabriel. "They even had to pry me off of the bleacher bars to get me to go up."
In second place for the singing portion of the talent show was senior Jonelle Kai who sang "Sunday Morning" by Maroon 5. Third place went to band members sophomore Chris Pidgeon and seniors Tim Pidgeon, Christian Aloisio, and Zachary Adams; they performed a written original "We Are."
The dancing portion of the talent went to dance group Trifecta. Sophomore Vivienne Diza and seniors Jennifer Allen and Naydean Diniega danced to their own mix.
Contestants are judged on originality, artistic expression, level of expertise, technique and precision, stage presence, level of difficulty, overall performance, and audience support.
Other contestants incuded sophomore Daniel Chatmon who sang "Green Light" by John Legend. Estevan Bonifacio, senior, played the guitar and sang to "She Says" by Switchfoot. Seniors Melanie Mclain and John Hew Len sang an original duet "Wishing for Rain" with Hew Len on the guitar. Seniors Ose Apaisa and CK Villejo sang AJ Rafael's "She was mine" and junior Katrina Joiner sang Justin Bieber's "Pray."