Miss Teen America Promotes Anti-Bullying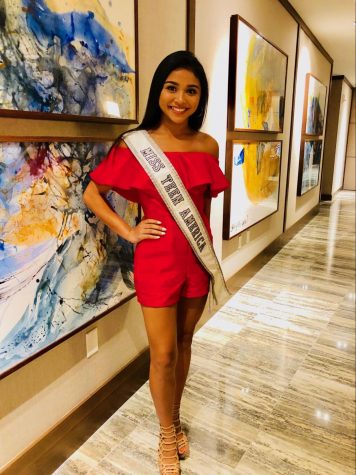 Waianae resident and Radford senior Ciana Pelekai is recognized for her vocal performances at school and community events, Brown Bags to Stardom, and "America's Got Talent." She was crowned Miss Hawaii Teen America, last year, and recently made national news when she won Miss Teen America 2017. However,  those accomplishments take a backseat to a bigger and personal issue that has become her pageant platform. She wants to stop bullying, a problem she personally struggled with in the past.
"I created this platform about two years ago, because I've been bullied in the past," Pelekai said. "Experiencing bullying has made me such a stronger person and it motivated me to grow as an individual."
Pelekai was first teased when she displayed behaviors that were not in her control.
"I was diagnosed with a disorder. ADHD," Pelekai said. "That's when I first experienced being bullied and it was so terrible."
Attention-Deficit Hyperactivity Disorder is a genetic brain-based disorder with excessive, persistent behaviors that show up in multiple settings and cannot easily be tamed. Her own personal experience with unjust bullying inspired Pelekai to speak up about the issue of bullying, whether it's for ADHD or any other reason.
"The reason why I created this platform is because I want to help others overcome the challenges they've been through, especially bullying," she said. "Even though, others would bully me, it would hurt me but motivate me to be strong and not let anyone tear me down."
She sees being bullied as an experience that made her stronger. Pelekai says she hopes to promote her platform by volunteering at different schools and helping to mentor others so that they feel confident and comfortable in what they want to do.
"I want to help mentor them and teach them how to achieve their goal. It doesn't only have to be with music but whatever goal they want to succeed in, to always believe in yourself, and reach for the highest star," she said.
While awareness of bullying is being raised, it remains a prevalent and serious problem in schools. According to a U.S. Department of Health and Human Services survey, it showed that 1 in 3 students have experienced bullying at school. Those students, according to the U.S. Dept. of Health and Human Services, struggle with what to do in those situations. This is why Pelekai uses her platform to advise and inspire victims of bullying.
"I understand that being bullied is the worst thing you could ever go through, but just remember to always think positive and just work on you and your dream," she said.
Since being crowned Miss Teen America, Pelekai recognizes the opportunities given to her and embraces her role to give back.
"Ever since I won that title my life has changed and it made a huge impact in my life. I've experienced so much, after winning Miss Teen America. I had many travel opportunities, from going to Texas to Italy. It has been an unforgettable experience," she said. "On the other hand, [I'm] able to volunteer at several community service events and [have] the opportunity to give back to not [only] my community, but others as well."
Pelekai has been singing since she was four years old and admits that she really loves singing. When she isn't indulging in her passion, "I like to act, spend time with family, and being a bowler."
Pelekai recognizes her family's constant support in all her endeavors.
"My family has always been my number one supporter and they are always there for me from pageants to coming to my performances. It really means a lot for them to be there by my side through thick and thin," Pelekai said.
In fact, she credits her sister for inspiring her to perform.
"How I started doing pageants and singing is from my sister Teiliana," Pelekai said. "She always inspired me to strive for best and every time I see her on stage performing or doing pageants, it made me want to start doing it as well."
"Dreams Don't Work Unless You Do" is a quote that she said she lives by.
"I love this quote because I believe that if you want to really succeed and strive for your dream, you have to let everything go and focus on your craft so in the end it will end up being worth it," she said.
The quote has helped her move forward and dream. She plans on attending American Musical and Dramatic Academy and pursue a Bachelor in Fine Arts in Performing Arts.