Solace-Michaud Joins Ram Faculty
Virginie Solace-Michaud has been eager to start the school year with her students. After weeks of waiting for paperwork to go through, she finally met her classes seven weeks into the quarter.
But, that hasn't stopped her from making sure that her students received daily French and English lessons.
Solace-Michaud teaches four levels of French and sophomore English.
"I always wanted to be a teacher and started tutoring others when I was a teenager," she said. "I'm passionate about teaching in general and about helping others."
She graduated from the University of Hawaii at Manoa with a master's degree in French Studies.
With teaching experience at local private schools, she said, "It is nice to work with students who come from different backgrounds and have different experiences."
She taught for five years at Le Jardin Academy, Punahou, and 'Iolani School, and worked as a lecturer at University of Hawaii.
Teaching doesn't stop outside work hours. She also teaches online lessons to people in the Air Force and gives private tutoring to children and adults.
Solace-Michaud said that she loves reading, and seeks learning opportunities in the text that she reads.
"I'm passionate about religion, all of them, so I study Buddhism and Christianity at the moment as I feel that it helps me understand the world better and why people think/act the way they do," she said. "The Quran is next on my list to learn."
She keeps herself busy with different activities. She enjoys dancing, having taken belly dance classes and was once in a belly dance troupe, exercising, and hiking.
She's also an all-animal advocate, and is a vegetarian.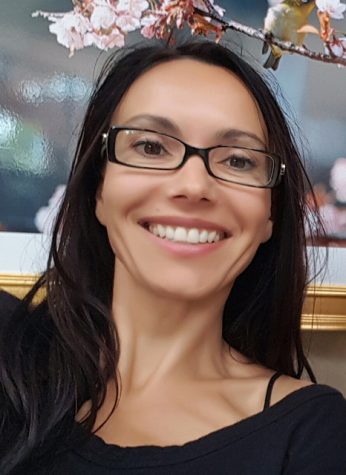 Virginie Solace-Michaud was eager to start the school year with her students. She teaches four levels of French and sophomore English. "I always wanted to be a teacher and started tutoring others when I was a teenager," she said. "I'm passionate about teaching in general and about helping others."