Tabali Joins Music Department
There's a new director in town. New teacher Erin Tabali is the school's choir, guitar, and theatre director.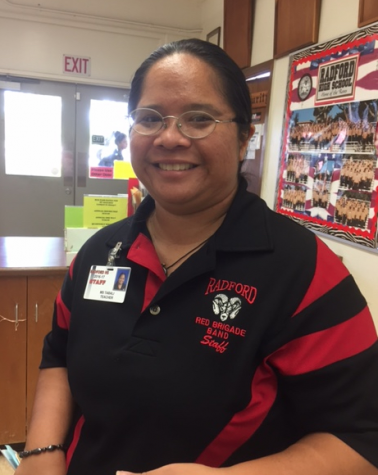 She graduated with a bachelor's degree in Secondary Music Education from the University of Hawaii at Manoa, who was inspired by her 6th grade teacher to pursue a career in education.
"She always made class interesting, always motivated her students to do their best, and always believed in her students even when they didn't believe in themselves.  If it wasn't for her, I wouldn't have become a teacher," she said. "It wasn't until I started playing in band in middle school that I wanted to teach music to anyone wanting to learn."
Tabali has been teaching for about six years, with a majority of that time at Saint Francis School in Manoa, and part-time at Leilehua High School. But, her ties at Radford were formed when she teamed up with Music Director Nicole Sherlock.
"I  assisted with Color Guard at Radford back in Fall 2012," she said. "I student taught with Mrs. Sherlock when she was here the first time, and it's a pleasure to be back here working with everyone."
Tabali said that Radford students are diverse and energetic about doing different things and experiencing all they are able to.
"Most of the students are informational sponges," she said. "They absorb any bits of information they can and roll with it. When they see something attainable that they like or will benefit from, they go after it."
She also said, "As a new teacher here, getting support has been a blessing. I have people I can go to, much like the students, if I need help with something. Everyone is willing to help when it is needed.  Whether it's students or staff, everyone helps in their own way. I can feel the Aloha and pride here and it's awesome."
Outside of music, Tabali keeps herself busy with reading, and watching movies.
"I read anything from Young Adult books (such as Divergent, Harry Potter, Hunger Games, etc.) to SciFi Horror (The Hollows Series, Peri Reed, etc.) and Fanfiction. YouTube is my go to on lazy days (Threadbanger, Diresta, KindaTV [Carmilla], Markiplier, etc.).  I also watch whatever is on television (RuPaul's Drag Race All-Stars 2). Music is a wide range of things (hiphop, Hawaiian, Musicals, Kpop, alternative, classical, marching band, etc.)," Tabali said.
Her hobbies also extend to collecting  gemstones such as Hematite, Fluorite, and Quartz, and collecting scented candles. But, her interests do not stop there.
"When I can, I go to the beach and float in the ocean. I love food of all kinds and cultures and dark chocolate is my weakness. I 'fangirl' like the best of them and try to go to local events when I can (KawaiiKon, Scottish Festival, etc.)  I also enjoy attending Hawaii Opera Theatre productions with my mom, or go to local theatre events (Paliku Theatre, Diamond Head Theatre, Manoa Valley Theatre, etc.)," Tabali said.