Honda Joins Counseling Department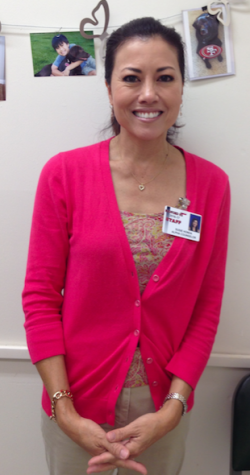 Susie Honda is a recent addition to the counseling department, supporting all students with last names LL-R.
While she may be a new face to the school, she is a familiar figure in the Radford complex. She was at Hickam Elementary School as a counselor for six years, before moving to Pearl Harbor Elementary School as a counselor for the next eight years. She recently worked as an Aiea-Moanalua-Radford Complex Resource Teacher for two years before accepting the counseling position at Radford High School.
"I have been working in the Radford Complex for 16 years and was excited to finally have the opportunity to work for an outstanding high school such as Radford," she said.
She received her bachelor's degree in Psychology from the University of Hawaii at Manoa, and her master's degree in counseling from Chaminade University.
Honda attended her first bonfire on campus and said that she really enjoyed the event.
"All the activities and the energy of the students contributed to an exciting evening," she said. "Having the football game on the Radford home field again was also something everyone looked forward to."
During her free time, she said that she enjoys working out, shopping, traveling with family, and discovering interesting places to eat with family and friends.