Shimabukuro Commits to Excellence
Richard Shimabukuro is the newest Assistant Principal to Radford High School's administration team. Working as an educator for 24 years, he was recently employed at Hickam Elementary School as vice principal and then, principal.
Shimabukuro said, "I chose to become a Radford Ram because of the outstanding reputation, pride and honor that is synonymous with Radford."
Shimabukuro vacillated between two fields of interests, science and education.
"Ultimately, the need to work collectively with others benefitting our society in the field of education was what I selected [over science]," Shimabukuro said. With this incentive in mind, he pursued a master's degree in Educational Administration from the University of Hawaii.
He worked as a teacher in three schools, and an administrator for five years.
"Every school has areas that need improvement, especially with constantly improving student achievement based on increasing formative instruction," he said. "Working in a school means to continually push toward improving every aspect of that institution, and I am here to assist with this endeavor the Radford way, with Discipline, Respect and Responsibility."
Shimabukuro said he strongly believes in Radford's "amazing students, dedicated and professional faculty and staff, and highly supportive families and community."
Outside of his job, he said that he enjoys participating in "activities that perpetuate the reason of life, and… to be happy. Whether it's keeping fit with diet and exercise, spending time with friends and family or enjoying all the natural beauty around us, I like to experience and live life happily…except if it involves eating liver."
About the Writer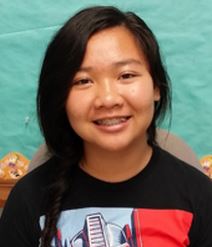 Hanh Pham, Editor
Hanh is a senior at Radford, and this is her second year in Newswriting. She constantly reflects on the state of society, and advocates feminism, LGBTQ...