The Right Way to Exfoliate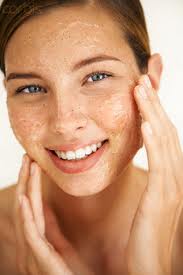 Exfoliation is a key step in your skin care routine. Neglecting this step can lead to fine lines (wrinkles), blemishes, and dull skin. Most people know that they need to exfoliate but they usually don't know how to do it the right way. If you exfoliate the wrong way, it can actually do more damage than not doing it at all. In order to have healthy and happy skin here are some tips on exfoliating.Dermatologists say that exfoliating once or twice a week is the best for your skin. If you do any more than this your skin can get irritated and dry. If you exfoliate less than once a week it can lead to dull and blemished skin. If you steam your face before exfoliating (using a bowl of boiling water and a towel draped over your head to keep the steam inside), it will deep cleanse your skin and help get rid of blackheads. Be careful when steaming your face and don't put your face too close to the steam.
The next tip when exfoliating is to be gentle. When choosing the right product to exfoliate with there are a few important factors to consider. If you are using a scrub it is important that the microbeads inside the scrub aren't too large. For example, the St. Ives Apricot Scrub, that is a favorite for a lot of people, has microbeads in it that are too large for your face. Scrubs like the Olay Pro X and the Clean and Clear line have microbeads that are small enough for gentle exfoliation. If you feel like you absolutely can't part with your favorite scrub, use it in moderation and with a very gentle massaging motion.
Remember: be good to your skin, and in return it will be good to you; never exfoliate everyday and cleanse your skin twice a day.