Thousands Run to Remember Fallen Soldiers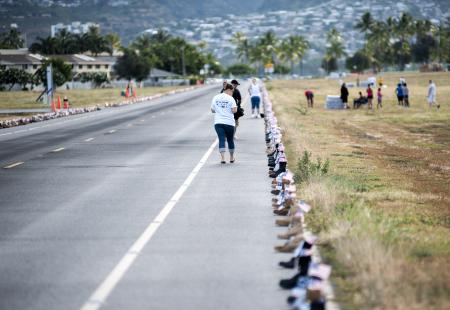 More than 6,700 boots lined the Ford Island Bridge and down the length of the runway, where it looped back to the bridge. These military boots weren't just any boots because clipped on to each boot was an identification badge with a picture and name representing a fallen soldier during the operations of Enduring Freedom (2001-present), Iraqi Freedom (2003-2011) and New Dawn (2010-present).
As part of the Tripler Fisher House 8K Hero & Remembrance Run, Walk, or Roll on Sept. 7, the event was created to raise awareness and to honor fallen soldiers since Sept. 11. Approximately 7,000 people participated.
Theresa Johnson, manager of the Hawaii Tripler Fisher House, said that this is "a no cost event because we wanted as many people as possible to attend and realize that those names and faces that lie before them have already paid the price for our freedom."
Tripler Fisher House takes care of military families going through a medical crisis. "Sadly it sometimes ends in death. We just lost a soldier to illness and his family brought us his boots the day before the run to honor him since they had stayed with us," Johnson said. "It meant so much to them to know he would be honored among the many."
Chief Petty Officer Michael Artman was a first time runner in this event. "You hear it in your mind 'that's a lot of boots,' but when you see the faces on the boots, it really affects you."  Artman was running for one soldier in particular: Darren Tate.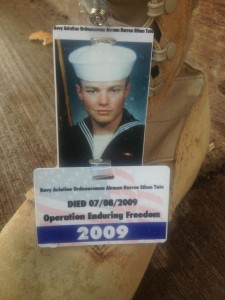 Tate was one of his friends, and also the youngest man at Artman's command, back when Artman was deployed in Afghanistan. Artman said that Tate had just turned 21 in Afghanistan and planned to get married when he returned home. Tate was sick for several days and passed away on July 8, 2009 from pneumonia.
 "It is always overwhelming as a wife of 23 years and a mother of Army soldiers to know that any one of them could have been my loved one staring back at me," Johnson said. "Thankfully they both returned safely from their deployments. Sadly, many of our friends' loved ones did not, so I did this to honor not just them, but every service member and their families."
Boots are on display on the Historic Tarmac on Ford Island and will remain there until Sept. 15.